Do you like dynamic party dash games? Then Fall Guys Ultimate Knockout will be to your liking. This platformer Battle Royale game is already available for Windows PC and PS4. The game is quite easy to play and mostly requires you to complete timing-based quests. We know some fall guys tricks. However, that will make your matches much more exciting and definitely more frequently victorious! Let's go!
No Need to Hurry
The majority of mini-games in Fall Guys are split up into 5 rounds. Each of them may include up to 60 players. Players, who aren't good enough, are cut at the end of each round so that only the most skilled could continue to fight. So why there's no need to hurry? Actually, the levels are designed to be not as simple as they may seem. If you start the match in a hurry to capture the first position, you may end up making terrible mistakes.
The best solution is to focus on qualifying during the first 5 rounds and then on trying to win the last round. This way, you will hone your skill and get ready for a winning showdown in the final round.
Fail to Get Advantage
Imagine that you're on a level that requires you to pass through rotating bars unharmed. In any other game, you won't be able to pass if you tough them. In Fall Guys, you can use a hack and get kicked by the bar so that it launches you to the next stretch of the round.
Another beneficial situation is when you face the spinning platforms. They will definitely eliminate your character, but jumping on them off the side at the right time may respawn you much closer to the finish line then you were before you screwed up. Look for curved blue flags to see where you will be spawned.
There Can be Fewer Rounds
Although the standard match lasts 5 rounds, some of them may occasionally include fewer. This depends on the number of players who manage to survive until the end of each round. Normally, around one-third of the crowd get cut on the at the end of the first round, and only a few manage to survive to clash at the final round.
However, the match can get shorter if enough players don't pass the third level. It means that you should always be ready for such a twist. You should also keep in mind that there are only 3 possible mini-games for the final round. They include Fall Mountain, Hex-A-Gone, and Royal Fumble.
A Bunch More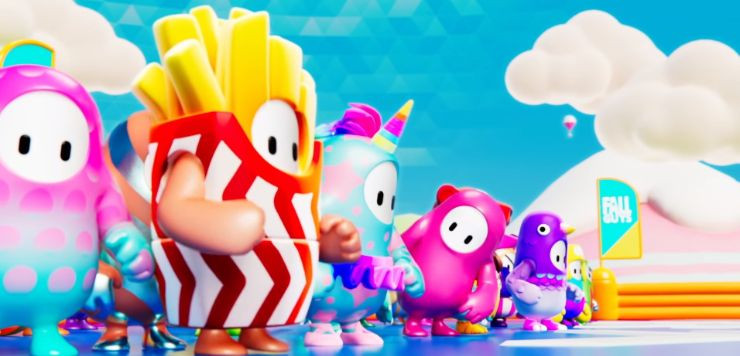 Here are some more useful tips for the desert. We decided to list them through bullet points:
Want to leave? – Well, you should know how to do it right then! Push circle (PS4) or Esc (PC) to enter the post-game lobby. If you can't quit, try tapping Options (PS4), or whatever button responsible for that on your computer.
Dive! – Don't forget that Fall Guys can not only jump, fall, and trip, but also dive. Use this action to dodge obstacles, land smoothly after diving off ledges, and dive across the finish line with glory.
Time to Fall!
Now you know how to make your Fall Guys matches even more exciting and more predictably winning. Do you like the Fall Guys gameplay? Tell us what attracts you to this fun game the most. You can also add any other comment on the topic below and share the article with other Fall Guys fans.